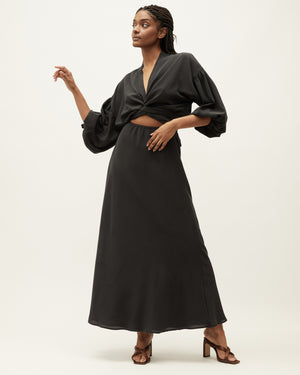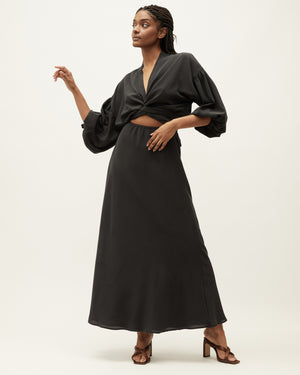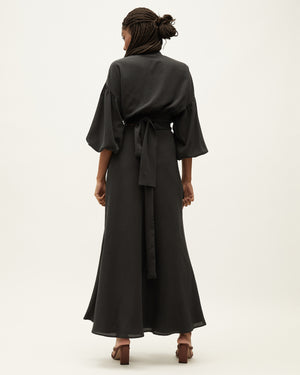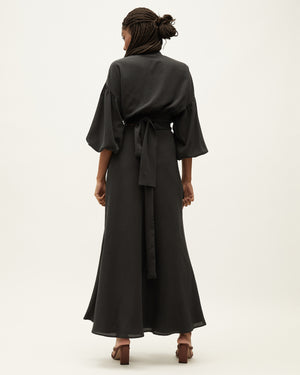 Wray Skirt - Sandwash Silk (exclusive)
Exclusive to dominiquehealy.com
Paired with matching Isabel Wrap Top this simple skirt has an a-line shape with a little more flare than out standard 'Bias Skirt'. Simple cut with an elasticized waist for ease and comfort. Skirt is 7/8 length, sitting a little above the ankles and is fully lined in viscose. This fabric is cut on the bias which helps the fabric drape and contour to the shape of the body.

FABRIC: 100% Silk (fiber). Sandwash silk crepe de chine (weave)
LINING: 100% Viscose

CARE: Dry-clean only. Warm Iron or steam only.

MADE IN-HOUSE IN OUR MELBOURNE STUDIO.
Low stock is kept. Orders are made in-house. Please allow 1-2 working days for this particular skirt to be shipped as orders are often made up as they come through. Express orders are classified as urgent and will be prioritised.
If between sizes you can go up if you prefer a looser fit or down if you prefer a more fitted look. Both should work due to the fabric being cut on the bias.

Fabulous skirt
Love this skirt; super comfortable and very flattering. Have worn it so many times already!
Skirt and top combo
Loved wearing this little combo
Beautifully made, and the lining in the skirt made it fall perfectly!!!
X